Share this graphic on your site!
Rise of the New LinkedIn: By the Numbers
You used to only check LinkedIn for job listings every few months—so why are working professionals suddenly spending hours on it every week.
LinkedIn's New Numbers
Worldwide Growth
2003: 500,000 users
2007: 13 million users
2011: 140 million users
2017: 500 million users*
10+ million active job listings
9+ million companies
100,000 articles published weekly
LinkedIn usage in the United States
138 million members
3 million jobs posted every month
20,000 companies use LinkedIn for recruiting
Who Logs On?
In 2016, 29% of online adults used LinkedIn
LinkedIn user characteristics (out of online adults worldwide)
Education
50% of college grads
27% of those with some college
12% of high school grads or less
Income
45% of those with household income of ≥$75,000
21% of those with income of ≤$30,000
Employment status
35% of employed people
17% of unemployed people
Deeper, More Frequent Engagement
In 2017, worldwide active users* are growing
January: 227 million
February: 240 million
March: 260 million
20% increase in content consumption
"I read interesting articles/videos on my LinkedIn feed"
2014: 16%
2016: 36%
The reason for this jump in activity? People don't log in just to update their resumes anymore.
New Reasons for Using LinkedIn
Before: Job Hunt Only
In August 2017, in the U.S. there were 7.1 million unemployed people
4.4% unemployment rate
35% of job seekers use social networks to contact potential employers
24% use them to contact recruiters or headhunters
75% of people who recently changed jobs use LinkedIn while making their next career decision
Now: Networking and Personal Branding
79% of professionals say networking is valuable for career growth
61% of professionals say regular online interaction with networks can lead to job opportunities
35% say a casual conversation on LinkedIn Messaging has led to a new opportunity
50% of LinkedIn members have found a job through a mutual connection
Most average LinkedIn connections per user
Countries:
United Arab Emirates: 211
Netherlands: 188
Singapore: 152
Cities
London: 307
Amsterdam: 288
San Francisco Bay Area: 241
Industries
Staffing and recruiting: 702
Venture capital and private equity: 423
Human resources: 380
Expert Opinions on the New LinkedIn
Manu Goswami, Business Development Associate, JB Fitzgerald Venture Capital
"When I joined LinkedIn, no one was posting anything related to their professional life in a way that truly utilized the beauty of storytelling. When people started doing that, LinkedIn became an outlet for many people. It's become a community I can count on for everything."
Robyn D. Stoller-Shulman, Senior Editor, 51Talk
"LinkedIn was always a phenomenal place for employed professionals to network. However, recent changes to the platform encourage ongoing engagement through status updates, video, immediate feedback, and viral views."
Thomas Ma, Co-Founder, Sapphire Apps
"If you're starting out, don't try to write something for the sake of the vanity. When you're shooting for numbers, you probably won't reach a lot of people. Be yourself and share your perspective. That's the best way to build an audience."
LinkedIn is Changing Along with Its Users
Focus on Making Connections
New Features
Native video
Share in-person status updates, tutorials, and behind-the-scenes videos on the LinkedIn mobile app
Active status
See when connections are online and ready to chat
Messaging
Start informal conversations with Facebook-style instant messaging
Video filters
Apply Snapchat-style filters to videos taken through the LinkedIn app at conferences and conventions
What to watch for in the future
Mentoring: Free service would match LinkedIn members with seasoned pros who give career advice
In 2017: Limited launch in San Francisco and Australia
Access to Top Thought Leaders
Jeff Weiner CEO, LinkedIn
Posts about: business, newest innovations from around the world
Followers: 6,633,664
Liz Ryan, Founder & CEO, Human Workplace
Posts about: company improvement, landing your dream job
Followers: 2,556,53
Mohamed El-Erian, Chief Economic Advisor, Allianz
Posts about: global economy, financial markets, monetary policy
Followers: 1,476,151
LinkedIn's Effectiveness
According to a 2016 Jobvite report, 87% of recruiters use LinkedIn to evaluate candidates
Employees sourced through LinkedIn are 40% less likely to leave the company within the first 6 months
LinkedIn hiring rate*
August 2016: 1.22
August 2017: 1.31
Up 7.2%
With all of the growth and updates, it looks like the new LinkedIn is here to stay!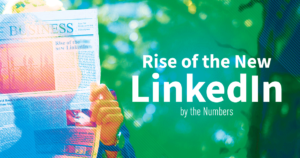 Sources:
https://www.inc.com/john-koetsier/the-3-stages-of-linkeds-epic-growth-from-500000-to-500-million-users.html
https://www.linkedin.com/jobs/blog/linkedin-workforce-report-september-2017
http://www.pewinternet.org/2016/11/11/social-media-update-2016/
http://fortune.com/2017/04/24/linkedin-users/
https://research.hubspot.com/reports/the-future-of-content-marketing?_ga=2.32164283.460720622.1505928177-405159328.1502125499
https://www.bls.gov/news.release/pdf/empsit.pdf
http://www.adecco.com/en-US/Industry-Insights/Documents/Adecco%20Work%20Trends%20Study%202015.pdf
https://business.linkedin.com/content/dam/business/talent-solutions/global/en_us/c/pdfs/Ultimate-List-of-Hiring-Stats-v02.04.pdf
https://www.forbes.com/sites/williamarruda/2013/11/25/9-reasons-why-you-must-update-your-linkedin-profile-today
https://news.linkedin.com/2017/6/eighty-percent-of-professionals-consider-networking-important-to-career-success
https://blog.linkedin.com/2017/april/13/introducing-a-smarter-way-to-message-and-build-meaningful-relationships-on-linkedin
https://blog.linkedin.com/2017/april/24/the-power-of-linkedins-500-million-community
https://blog.linkedin.com/2017/august/22/Introducing-LinkedIn-Video-Show-Your-Experience-and-Perspective
https://blog.linkedin.com/2017/august/16/introducing-active-status-on-linkedin-messaging
http://mashable.com/2017/10/03/linkedin-video-geofilters/#lNrHixFgnqqx
https://www.forbes.com/sites/nextavenue/2017/08/14/5-new-linkedin-changes-to-help-you-get-a-job
https://www.linkedin.com/pulse/linkedin-top-voices-10-must-know-influencers-2016-daniel-roth
https://www.jobvite.com/wp-content/uploads/2016/09/RecruiterNation2016.pdf